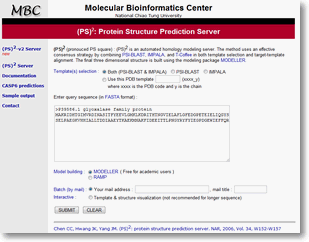 (PS)2 
(pronouced PS square) :
(PS)2 is an automated homology modeling server. The method uses an effective consensus strategy by combining PSI-BLAST, IMPALA, and T-Coffee in both template selection and target-template alignment. The final three dimensional structure is built using the modeling package MODELLER.
(PS)2可以偵測較遠的同源蛋白質,並且使用多重的模版預測蛋白質結構。(PS)2的使用方式非常簡單,首先是貼上你的蛋白質序列,樣板可以選擇Automatic或是直接指定要用的Template,然後送出。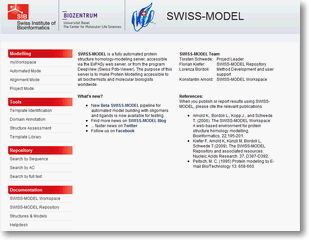 SWISS-MODEL is a fully automated protein structure homology-modeling server, accessible via the ExPASy web server, or from the program DeepView (Swiss Pdb-Viewer). The purpose of this server is to make Protein Modelling accessible to all biochemists and molecular biologists worldwide.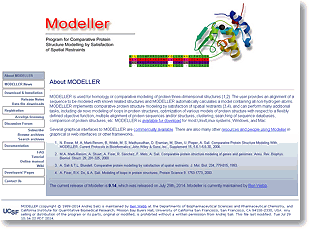 MODELLER is used for homology or comparative modeling of protein three-dimensional structures. The user provides an alignment of a sequence to be modeled with known related structures and MODELLER automatically calculates a model containing all non-hydrogen atoms. MODELLER implements comparative protein structure modeling by satisfaction of spatial restraints, and can perform many additional tasks, including de novo modeling of loops in protein structures, optimization of various models of protein structure with respect to a flexibly defined objective function, multiple alignment of protein sequences and/or structures, clustering, searching of sequence databases, comparison of protein structures, etc. MODELLER is available for download for most Unix/Linux systems, Windows, and Mac.